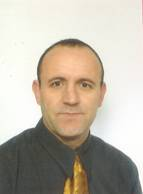 The LIRIS is a joint research unit to CNRS (UMR 5205), INSA Lyon, Université Claude Bernard Lyon 1, Université Lumière Lyon 2 and Ecole Centrale de Lyon. Its main scientific research area is Computer Science and, more generally, Information Technologies.
The spectrum of its research activities is wide and its workforce allows the laboratory to be a major actor of research - theoretical and applied - in its fields of competences. The laboratory develops know-how and expertise capable of responding to major societal challenges in close collaboration with the disciplines of Engineering, Human and Social Sciences, Environmental Sciences and Life Sciences.
The LIRIS constitutes a structuring force in the computer science landscape and its applications. It is structured into 6 clusters of competencies which include 14 research groups:
The work of the research groups also finds applications in the areas: Biology and healthcare (modelling of living systems, health engineering), Ambient intelligence (pervasive and distributed systems, intelligent monitoring, self* systems), Computer-assisted human learning: personalization, cognitive assistance, collaborative learning assistance, serious games) and scientific computing (big data analytics)
Mohand-Saïd Hacid,
Director
The laboratory is organized in six areas of skills of 20-25 permanents. Each of the 14 research teams belongs to one of these areas: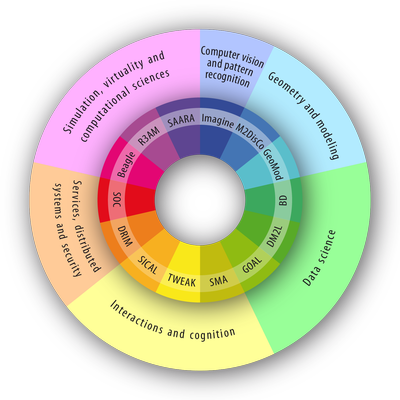 19 permanents (IMAGINE research team)
Objectives: this research group shares the same general objectives aiming at automatically understanding multimedia data (images, video, digital documents, 3D scenes). They focus on acquisition/reconstruction, indexing, modeling, classification or automatic content recognition (objects, actions, concepts ). The concept of  "visual object" at the heart of our work is a common denominator of this group.
Skills: signal and image processing (filtering, segmentation, feature extraction), machine learning and pattern recognition (connectionist, statistical and structural approaches), information fusion, constraint programming, discrete and continuous optimization
Objectives: this research group develops its research activities by considering geometry as a core. Whether for analyzing or modeling, the common thread of its teams is to design algorithms that are efficient and robust, in order to produce and manage high quality objects and scenes. The input geometric elements may correspond to point clouds, meshes or images.
Skills: computational geometry, discrete geometry, geometric and topological modeling, 3D reconstruction and interactive creation, procedural modeling, geometry processing of meshes and discrete shapes (feature extraction, indexing and retrieval, compression, watermarking, segmentation, visualization), topological modeling
Objectives: this research group analyses and designs new and robust models for representing, processing, accessing, exploiting and protecting massive amounts of data. Those data can be homogeneous or heterogeneous, structured or not, distributed or not, but also either static or in the form of a data stream.
Skills: data modeling (graphs, algorithmic, data mining and statistical learning, declarative languages and systems for databases) and operational systems (middleware, integration platform, operational prototypes)
Objectives: this research group develops new models, languages, protocols and tools for the generalization of the concept of service to ensure interoperability, for pervasive services, for trust and security improvement, for new information retrieval models
Skills: proliferation, discovery and composition of software and data services deployed over the Internet, quality of service and fault tolerance, security, trust, reputation, content adaptation and personalization, reliable information sharing and dissemination
Objectives: this research group aims to acquire, understand, model, simulate and render our environment. To achieve these goals, we design and exploit several computational and mathematical tools. We numerically reproduce elements of the surrounding universe to realize virtual experiences or anticipate the making of artificial objects. This group is therefore naturally pluridisciplinary and maintains strong links with several fields in biology, physics, medicine and engineering.
Skills: from the realistic simulation to mathematical modeling continuum. Along the real-virtual continuum, the following skills are acquisition / modeling / interpretation / rendering of scenes, animation, computational biology, artificial evolution, multi-scale models, perception models, reaction / diffusion models in particle systems, augmented reality, computer graphics, artificial life. On the methods plan, the following skills are present: intensive and parallel computing, scientific computing, stochastic methods, self-centered modeling, computer vision, bio-mechanical simulation, multi-physics simulation
Objectives: this research group analyses, designs and develops dynamic digital systems in which agents (human or software systems) interact. The researchers focus both on individual properties of agents, and on properties of the system as a whole. In particular, they are interested in the cognitive abilities of those systems
Skills: knowledge dynamics and traced experience, Computer Environment for Human Learning, interactive systems, multi-agents systems, self-* systems, cognition and developmental learning.
The laboratory leads research on fundamental issues in these six areas. It also develops know-how with strong impacts on society and closely with the other scientific disciplines (engineering, Humanities and Social Sciences, Environmental Sciences and Life Sciences):
Culture and heritage (digital libraries, critical edition, digitization of ancient documents, archiving, 3D virtual museums …)
Environment and urban world: intelligent building, 3D modeling of the cities, Geographical Information Systems, mobility, transport optimization, intelligent transportation systems,…
Biology and health (data mining, complex systems modeling and analysis, e-health…)
Ambient intelligence (pervasive systems, sensor networks, intelligent video surveillance, secured communicating objects, self-* systems,…)
Human learning (personalization, cognitive assistance, collaborative learning…)
Digital entertainment (video games, animated cinema, multimedia data processing…)
Big data management, processing, visualization