Work on smartphones obsolescence receives awarded at the ICT4S 2023 conference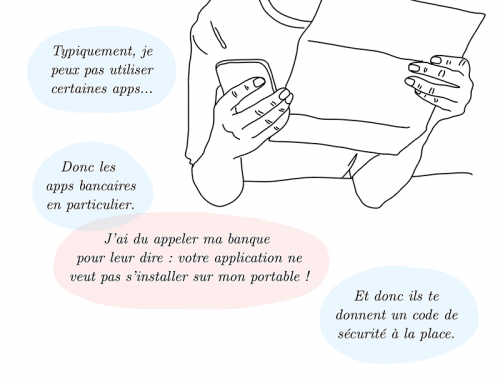 Work on smartphones obsolescence receives awarded at the ICT4S 2023 conference
Léa Mosesso's MSc research on obsolescence paths, i.e., how people live with aging smartphones has received a best paper honorable mention at the ICTS 2023 conference.
---
The article Obsolescence Paths: living with aging devices, presented at the ICT4S 2023 conference has received a best paper honorable mention. Léa Mosesso led this project during an internship in the SICAL team, as part of the project Limites Numériques in collaboration with the studio Praticable, and Nolwenn Maudet of Strasbourg University. The article studies the experience of using aging smartphones and life extension strategies users develop. On top of the article, Léa Mosesso also created comics describing in a few strips user stories.
To complement this qualitative research, we are currently setting up a suvery to be distributed to over a 1000 representative french smartphone owners of various backgrounds, thanks to funding from MITI-CNRS.
If you are interested in the topic, le project Limites Numériques has a newsletter in french and in english. The newsletter is geared to all: students, journalists, regulators, researchers and aims to share knowledge across disciplines on the sustainability challenges of the ICT sector.