[Awareness-raising for gender equality] In June, let's mobilise in a good mood for women's rights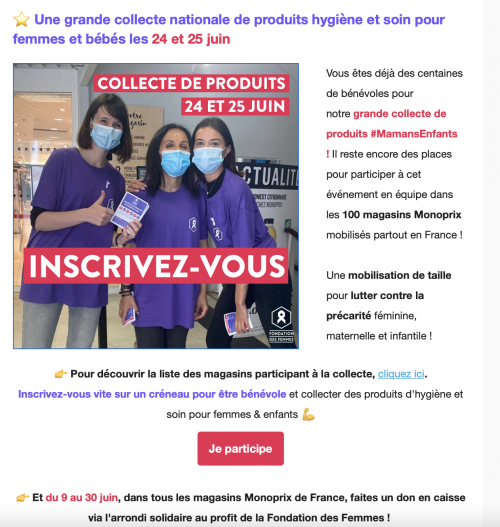 [Awareness-raising for gender equality] In June, let's mobilise in a good mood for women's rights
The LIRIS Gender Equality Commission wishes to launch weekly spots on women in science, new masculinities and in general reflections on a new possibility for the scientific community. The aim is to raise awareness and to reflect on this theme that affects us.
---
A major national collection of hygiene and care products for women and babies on 24 and 25 June.
Hundreds of volunteers for the big collection of #MamansChildren products can take part in this event as a team in the 100 Monoprix shops mobilised throughout France! 
A major mobilization to fight against the precariousness of women, mothers and children! 
 To discover the list of shops participating in the collection, click here: https://fondationdesfemmes.us12.list-manage.com/track/click?u=2cc1afe72770f9241a907cce8&id=5852e04d98&e=b5a13f2d85 
Sign up quickly for a slot to be a volunteer and collect hygiene and care products for women and children 
I participate: https://benevole.fondationdesfemmes.org