The 2022 FIEEC-Bpifrance Prize for Applied Research awarded to Liming Chen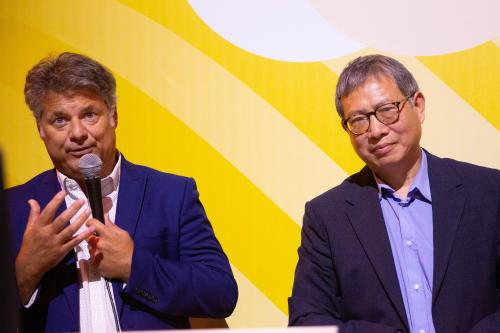 The 2022 FIEEC-Bpifrance Prize for Applied Research awarded to Liming Chen
The Federation of Electrical, Electronic and Communication Industries (FIEEC) and Bpifrance have unveiled the 2022 Prizes for Applied Research.
---
Liming CHEN, LIRIS - Ecole Centrale Lyon, in partnership with the company Siléane in Saint-Etienne received, on 06.10.2022, the FIEEC-Bpifrance Prize for Applied Research 2022.
Liming Chen conducts research in artificial intelligence and robotics. Siléane builds machines to automate handling, assembly, packaging, etc. with robots equipped with analysis capabilities for multiple industrial applications: agri-food, pharmaceuticals, environment, plastics, microtechnology, automotive, etc.
The company-laboratory cooperation has enabled the Siléane robots to take a new technological step: their capacity for intelligent vision and learning, their autonomy go beyond the current characteristics of flexibility and adaptability.
Photo credits: copyright @Rémy Le Lan.